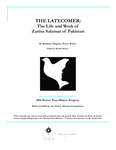 Abstract or Description
Women on the frontline of efforts to end violence and secure a just peace seldom record their experiences, activities and insights – as generally there is no time or, perhaps, they do not have formal education that would help them record their stories. The Women PeaceMakers Program is a selective program for leaders who want to document, share and build upon their unique peacemaking stories. Selected peacemakers join the IPJ for an eight-week residency.
Women PeaceMakers are paired with a Peace Writer to document in written form their story of living in conflict and building peace in their communities and nations. The peacemakers' stories are also documented on film by the IPJ's partner organization Sun & Moon Vision Productions. While in residence at the institute, Women PeaceMakers give presentations on their work and the situation in their home countries to the university and San Diego communities.
Zarina Salamat was for several years the chairperson of the Pakistan-India Peoples Forum for Peace and Democracy (PIPFPD) in Islamabad and a leader in the Citizens' Peace Committee. For most of her life, Salamat had been a social scientist researcher; it was not until the passing of her husband in 1994 that her peace activities began to take center stage. After she joined PIPFPD, India and then Pakistan exploded nuclear devices in May 1998. Salamat organized protests against both, in the midst of great hostility from extremist groups.
By the end of 1998, Salamat was engaged with the Hiroshima Citizens Group for the Promotion of Peace and traveled to the Japanese city with a peace advocate from India to witness the effects of atomic bombs. Upon their return home, joint efforts for peace on the subcontinent commenced. In her efforts to ban nuclear weapons, Salamat hosted a number of peace missions from Japan to raise awareness in the Pakistani public of the reality and dangers of nuclear weapons. She hosted the visit by the mayor of Hiroshima as part of his worldwide campaign for "Mayors for Peace" and enrolled local mayors to join the movement. With the active assistance of the mayor of Hiroshima, Salamat convinced the government of Pakistan to set up a peace institute and university faculties to introduce peace studies as part of their curricula.
Salamat's efforts to create forums for parliamentarians, activists and intellectuals from Pakistan and India to meet are credited with setting the environment for the 2004 visit of the Indian Prime Minister to Pakistan, the first visit in over a decade. Salamat has also arranged for women from India and Pakistan to work together, and for youth between the ages of 15 to 17 to visit Hiroshima so they can witness for themselves the irrevocable impact of nuclear weapons.
Keywords
peacebuilding, Women PeaceMakers, Pakistan
Disciplines
Peace and Conflict Studies
Digital USD Citation
Hughart, Kathleen, "THE LATECOMER: The Life and Work of Zarina Salamat of Pakistan" (2004). Kroc IPJ Research and Resources. 52.
https://digital.sandiego.edu/ipj-research/52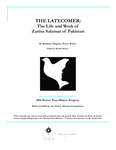 Included in
COinS