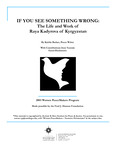 Abstract or Description
Women on the frontline of efforts to end violence and secure a just peace seldom record their experiences, activities and insights – as generally there is no time or, perhaps, they do not have formal education that would help them record their stories. The Women PeaceMakers Program is a selective program for leaders who want to document, share and build upon their unique peacemaking stories. Selected peacemakers join the IPJ for an eight-week residency.
Women PeaceMakers are paired with a Peace Writer to document in written form their story of living in conflict and building peace in their communities and nations. The peacemakers' stories are also documented on film by the IPJ's partner organization Sun & Moon Vision Productions. While in residence at the institute, Women PeaceMakers give presentations on their work and the situation in their home countries to the university and San Diego communities.
Raya Kadyrova is the president and founder of Foundation for Tolerance International (FTI), a nongovernmental organization (NGO) founded in 1998 in Kyrgyzstan that operates in the cross-border communities of the Ferghana Valley in Central Asia. Dedicated to preventing and transforming interethnic conflicts, FTI has developed a reputation as the premier NGO in its region for its ability to bring divided communities together in the spirit of peace and for its efforts to lend a voice to disenfranchised populations.
After graduating from the University of Bishkek, Kadyrova became a language instructor for the U.S. Peace Corps Volunteers in Kyrgyzstan and later joined the office of the United Nations High Commissioner for Refugees to implement a tolerance education project, minimizing tensions between Kyrgyz and Tajik students. During incursions into southern Kyrgyzstan by Islamic extremists in 1999 and 2000, known as the Batken War, FTI established camps for internally displaced people and set up Radio Salam and Salam Asia, a radio station and magazine – critical outlets of information for the displaced population. For her and FTI's efforts in the Batken War, Kadyrova was conferred the title of Honorary Citizen of Batken Oblast by the government of Kyrgyzstan, the only woman among seven recipients.
Additionally, Kadyrova has strived to make police reform a priority in the country and was one of two civil society representatives in the Government Committee on Police Reform in Kyrgyzstan. She was also civil society representative in the Council on Human Rights of the Kyrgyz Republic and chaired the Civil Society Advisory Board to the United Nations, which institutionalizes cooperation channels between the United Nations and civil society and seeks to improve the efficacy of U.N. activity in Kyrgyzstan.
While FTI remains focused on its original goals of preventing violent conflict and building peace and justice throughout Kyrgyzstan and Central Asia, it has expanded its efforts from the amelioration of interethnic conflicts in the Ferghana Valley to address a broader range of conflicts, particularly between corrupt governmental authorities and the citizenry of Kyrgyzstan. Kadyrova refers to this shift as a change in focus from horizontal to vertical issues, which is the result of the changing political context within the country. Therefore, FTI has developed programs aimed at developing an effective multiparty democracy, improving the capacity of local government bodies, enhancing democratic decision making at the local level and incorporating women and youth in the peaceful democratic development of Kyrgyzstan.
In addition, FTI is responsible for the development of the Early Warning for Violence Prevention program, which utilizes constant monitoring processes to raise awareness of potential and actual conflicts throughout Kyrgyzstan; it is the first early warning system in Central Asia. In 2005, Kadyrova was one of the 1,000 women nominated for the Nobel Peace Prize.
Keywords
peacebuilding, Women PeaceMakers, Kyrgyzstan
Disciplines
Peace and Conflict Studies
Digital USD Citation
Barker, Kaitlin, "IF YOU SEE SOMETHING WRONG: The Life and Work of Raya Kadyrova of Kyrgyzstan" (2003). Kroc IPJ Research and Resources. 53.
https://digital.sandiego.edu/ipj-research/53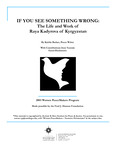 Included in
COinS