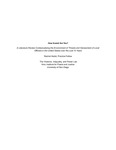 Abstract or Description
Targeted threats, harassment, and the perpetration of physical violence against elected officials are becoming increasingly commonplace around the world. Sadly, the United States and our own backyard of San Diego is no exception. Local leaders - the most foundational representatives of the democratic processes that undergird our system of government - are facing unprecedented levels of uncivil and anti-democratic threats, harassment, and attacks. By nearly all measures, political violence is considered to be more acceptable in the U.S. than it was five years ago.
Current data indicates that the majority of threatening and harassing behavior directed against local officials is non-physical and occurs through online spaces. However, permissive rhetoric can both harm our democracy as well as escalate into physical violence targeting democratically elected leaders. A high-profile example of this is the brutal attack on Nancy Pelosi's husband, Paul Pelosi, in October 2022. David DePape broke into the Pelosis' San Francisco home with the intention of kidnapping the former speaker of the US House. Instead, DePape encountered Paul Pelosi, an 82-year-old man, who he attacked with a hammer. DePape left Pelosi unconscious, with a fractured skull and injuries on his hand and harm. Officials who investigated the attack found that DePape had an extensive history of online engagement with right-wing conspiracy theories and angry rants against women. In his blog, DePape described how Gamergate, an online forum filled with far-right conspiracy theories and violent rhetoric against women, was the catalyst for much of his worldview. Joan Donovan, who recently co-authored a book examining Gamergate's role in the rise of alt-right political movements, stated that Depape's move from an online space to an attempted real-world attack on a female public figure is unsurprising. Incidents like this highlight the danger of violent rhetoric leading to physical violence, as well as demonstrate the need for further analysis of the connection between violent political rhetoric and violent outcomes.
While high-profile incidents such as the Pelosi attack provide crucial context for the broad scope of threats, harassment, and violence directed at public officials, this literature review will focus on the less prominent, but nonetheless critical, issue of threats and harassment directed at local elected officials. In particular, this literature review centers around school board officials, members of city councils, and mayors located within San Diego County as well as across the United States. The literature review will consider the current research on the scope of the threats and harassment faced by local officials, the drivers of threatening and harassing behavior, and its impacts on local officials and the democratic process. In addition, this literature review will provide an overview of current recommendations for reducing the level of threat to local officials and improving the civil discourse. Finally, the literature review will conclude with recommendations for further research around threats and harassment directed at local officials.
Keywords
threats, elected officials
Disciplines
Peace and Conflict Studies
Digital USD Citation
Hodel, Rachel, "How Scared Are You? A Literature Review Contextualizing the Environment of Threats and Harassment of Local Officials in the United States over the Last 10 Years" (2023). Kroc IPJ Research and Resources. 69.
https://digital.sandiego.edu/ipj-research/69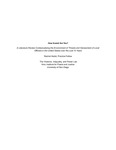 Included in
COinS