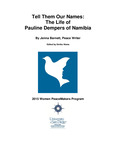 Abstract or Description
In the following pages, you will find narrative stories about a Woman PeaceMaker, along with additional information to provide a deep understanding of a contemporary conflict and one person's journey within it. These complementary components include a brief biography of the peacemaker, a historical summary of the conflict, a timeline integrating political developments in the country with personal history of the peacemaker, a question-and-answer transcript of select interviews, and a table of best practices in peacebuilding as demonstrated and reflected on by the peacemaker during her time at the Kroc Institute for Peace and Justice.
Pauline Dempers is a human rights activist from Namibia and co-founder and national coordinator of Breaking the Wall of Silence (BWS), a grassroots group that advocates for the rights of those affected by imprisonment, torture and enforced disappearances during the Namibian war of independence.
Dempers grew up in the country formerly known as South West Africa when it was ruled by South Africa's apartheid regime. Encouraged at an early age by her father's personal resistance to white-minority apartheid rule, she developed a powerful yet painful awareness of the injustices in her community. Dempers became involved with student and community political protests, eventually joining South West Africa People's Organization (SWAPO), the leading voice of the liberation movement, which would dramatically alter the course of her life.
When the political tension in her country intensified, Dempers fled to Angola in 1983 to receive military training with SWAPO. Along with many hundreds of young SWAPO recruits, she was later arrested by her fellow comrades, tortured and held underground in the "dungeons" of Lubango on suspicion of spying for the South African government. Dempers writes, "I experienced political violence at the hands of my own comrades. I was betrayed in the cause for justice and self-determination." The personal losses and human rights abuses took a devastating toll on her life. She was separated from her daughter for three years and lost her fiancé, the father of her two children, who was one of the many Namibians whose fates and whereabouts are still unknown.
After independence finally came to Namibia in 1990, Dempers was determined to continue her fight for peace, justice and freedom. She made it her mission to raise awareness about what transpired in exile, and co-founded BWS.
Under her dedicated stewardship, BWS has forged links with the International Action Network on Small Arms (IANSA). Her work with the national and international movement against gun violence is greatly influenced by her imprisonment and torture. She says, "That was done by the power of the gun. It made me realize the power that lies in a gun. I feel that there are people out there who are vulnerable, especially women. And I feel that I have the chance to make a difference."
Dempers is also a former politician with the Congress of Democrats and was chairperson with NANGOF Trust, an umbrella organization of Namibian NGOs that promote and protect human rights and strengthen democracy.
Keywords
peacebuilding, Women PeaceMakers, Namibia
Disciplines
Peace and Conflict Studies
Digital USD Citation
Barnett, Jenna, "Tell Them Our Names: The Life of Pauline Dempers of Namibia" (2015). Kroc IPJ Research and Resources. 7.
https://digital.sandiego.edu/ipj-research/7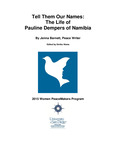 Included in
COinS