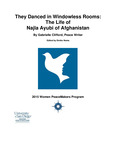 Abstract or Description
In the following pages, you will find narrative stories about a Woman PeaceMaker, along with additional information to provide a deep understanding of a contemporary conflict and one person's journey within it. These complementary components include a brief biography of the peacemaker, a historical summary of the conflict, a timeline integrating political developments in the country with personal history of the peacemaker, a question-and-answer transcript of select interviews, and a table of best practices in peacebuilding as demonstrated and reflected on by the peacemaker during her time at the Kroc Institute for Peace and Justice.
Judge Najla Ayubi of Afghanistan is a firm believer that there can be no peace without justice. She first took the bench in the late 80s in her native Parwan Province, before being forced out of her profession and public life during the rule of the Taliban. Unwilling to accept her fate, Ayubi was soon organizing clandestine schools and sewing classes in bunkers, hidden from the Taliban's religious police that forbade work for women or education for girls older than 8 years old. Raised in a family that prized education for both boys and girls, Ayubi herself has two MA degrees: one in law and politics from the State University of Tajikistan and another on post-war recovery and development studies from the University of York in the United Kingdom.
With the fall of the Taliban in 2001, Ayubi returned to work as senior state attorney, but saw that more was needed in the tumultuous period of the U.S. invasion of Afghanistan and the country's transition. Not one to sit idly by, Ayubi took increasing leadership roles promoting civic education, women's empowerment, human rights and transparency as the country sought to write a new constitution and hold its first elections after decades of conflict. She served as a legal advisor for the State Ministry of Parliamentary Affairs of Afghanistan, commissioner at the Independent Election Commission of Afghanistan and commissioner of the Joint Electoral Management Body.
An outspoken proponent of women's rights frequently tasked with advising on gender mainstreaming, Judge Ayubi has not hesitated to critique post-conflict transition processes that have excluded women. This has not made her popular with the Taliban or certain tribal leaders who continue to hold positions of power. Undeterred, she continues to advocate for women's rights in Islamic contexts and a society that values education and justice for women and men, as her family did in Parwan.
Ayubi served as a board member of Open Society Afghanistan and as country director of Open Society Afghanistan. She sits on a number of boards including as a global advisory board member of Women's Regional Network, and a steering committee member of Tawanmandi. She recently served as deputy country representative of The Asia Foundation's Afghanistan office.
Keywords
peacebuilding, Women PeaceMakers, Afghanistan
Disciplines
Peace and Conflict Studies
Digital USD Citation
Clifford, Gabrielle, "They Danced in Windowless Rooms: The Life of Najla Ayubi of Afghanistan" (2015). Kroc IPJ Research and Resources. 8.
https://digital.sandiego.edu/ipj-research/8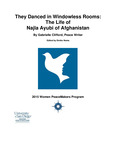 Included in
COinS