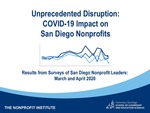 Abstract or Description
Nonprofit organizations are often on the frontlines of crisis, serving as a critical partner to government in sustaining our community safety net and quality of life. As a result of the COVID-19 pandemic, many local nonprofits are experiencing increased demands for services, yet have been hindered or completely cut off from responding due to stay at home orders, revenue loss, and physical distancing.
In an effort to understand the impact of the COVID-19 pandemic on local nonprofits' ability to meet their communities' needs, The University of San Diego's Nonprofit Institute has been surveying nonprofit leaders since March 2020.
This report documents findings from the second survey of nonprofit leaders administered between April 21-27, 2020. A total of 381 nonprofit leaders representing both small and large nonprofits from a variety of subsectors responded to the second survey. While the survey was a convenience sample, the results are similar to the actual composition of the nonprofit sector except for an overrepresentation of arts and culture and environment and an underrepresentation of education. In terms of budget size, the smallest nonprofits (revenue under $50K) were underrepresented and the largest nonprofits (revenue $5 Million+) were overrepresented.
Keywords
coronavirus, COVID-19, pandemic, nonprofit, not for profit, sector, business, San Diego
Disciplines
Nonprofit Administration and Management
Rights
Copyright © 2020. All Rights Reserved The Nonprofit Institute School of Leadership and Education Sciences University of San Diego
Digital USD Citation
Deitrick, Laura; Tinkler, Tessa; Young, Emily; Meschen, Connelly; Strawser, Colton; Funderburk, Taylor; and Abruzzo, Tom, "Unprecedented Disruption: COVID-19 Impact on San Diego Nonprofits" (2020). Nonprofit Sector Issues and Trends. 5.
https://digital.sandiego.edu/npi-npissues/5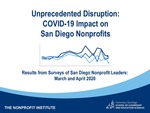 Included in
COinS