Volume 1, Issue 1 (2021)
The COVID-19 pandemic has challenged Counselor Education programs across the country to integrate and utilize technology effectively in the classrooms, on-site, and in supervision. Technology in counselor education as a result is integral to teaching, learning and clinical supervision now more than ever. For this reason, we are excited to present the inaugural issue of the Journal of Technology in Counselor Education and Supervision. The original research, position papers and case studies in this issue represent current thinking on topics and addresses the cutting edge of technology use in counselor education and supervision.
The inaugural issue starts with a content analysis conducted by William McKibben and Sandra Logan-McKibben on the social media usage of nine ACA divisions. Their study analyzes the content of the posts and provides recommendations for effective social media practices.
A Case Study presenting the design and implementation of a University Telemental Counseling Health Training Clinic by Callahan et al. describe a multiphase process for the concept, design and operational launch of a fully online training clinic. Analysis of implementation drivers and lessons learned are presented.
A Technology and Supervision focused paper by Raul Machuca and Ashley Kurns describe the model for Online Live Supervision of Telemental Health Counseling (OLSTHC). Ethical, multicultural and research considerations for OLSTHC implementation are discussed.
In addition, we are honored to publish the proceedings of the 2021 Counselor Education Distance Learning Conference hosted by Palo Alto University. We are excited to share seven proceedings in this issue.
To start of the conference proceedings section, Donna Sheperis and Arielle Smith call for the development of Standards of Care for telehealth best practice. Taking a multidisciplinary approach in their review of literature from counseling, psychology, psychiatry, family therapy and social work; they propose a framework for such standards.
Margaret Lamar and Donna Sheperis describe how using virtual conference presentations as a class assignment can develop student interest in research methods. The elements of the assignment are discussed as well as the positive response from students that have completed the assignment.
Kelly Coker et al. used a scholarly analysis to frame the current accelerated use of distance learning in counselor education within a broader historical context of the development and use of distance education technology. The authors also consider emerging technologies that may also disrupt our teaching learning models in counselor education.
Laura Bruneau and Blaine Reilly describe how online counselor education can enhance connection and authenticity utilizing a Relational Cultural Theory (RCT) framework.
Lisa McKenna and Amie Manis describe best practices and social justice considerations in curriculum design and assessment for online counselor education programs. Competency-based and backward-design models are discussed as frameworks for their approach. These models are applied in a hypothetical course aimed at developing social justice advocacy.
Szu-Yu Chen et al. report on a pilot study that examined the effects and experiences of a remote counseling skills course. The study shares four themes of the participants' perceptions of online teaching of skills.
And finally to close the inaugural issue, Wathen et al. share a model for teaching an online synchronous group counseling course. The authors share strategies, opportunities and challenges to teaching a group counseling course online.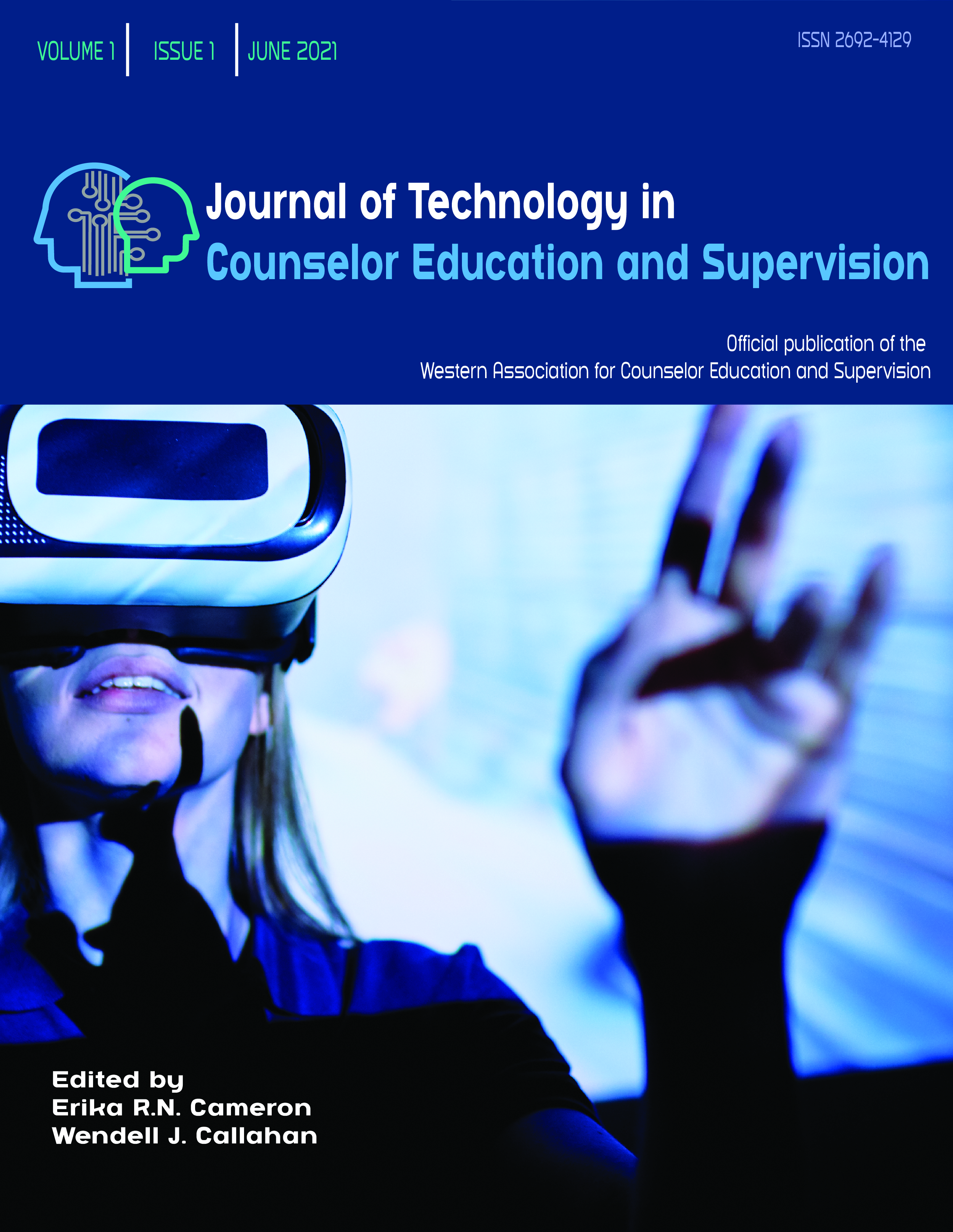 Editors
Co-Editor

Erika R.N. Cameron

Co-Editor

Wendell J. Callahan
Editorial Board
Annett Backs
Cort Dorn-Medeiros
Mariamee Gonzalez
Kristopher Hall
June Hyun
Martin Jencius
Tanya Johnson
Margaret Lamar
Joseph Lathan
Agnes Luo
Jayna Mumbauer
Shreya Valshnav